10 Floral Wreaths and Ribbons for Weddings and Valentines
Here is another set of beautiful brushes for Photoshop that you can use in your DIY projects this valentine season. The set includes 10 high-resolution brushes, with sizes ranging from 1200-2000 pixels.  These floral wreaths and ribbons could make your layout beautiful and interesting. They can be used to add decorations in your design as accents or they can be the main graphic element. For some brushes, you can also add text to them to further personalize these designs. The images included in this pack are also suited not just for Valentine's Day designs but also for other love-themed artworks. You can use them in your DIY wedding invitations and gift tags as well as for engagement announcements. Aside from weddings and engagements, you can also use them for Mother's Day DIY projects as well as for birth announcements.
These brushes are very high-res, making them ideal for printed materials like greeting cards, gift tags, posters, among other things. Try playing around with colors and blending modes in Photoshop. An interesting background such as textures or a nice pattern can add interest to your design.  I hope you enjoy using these brushes.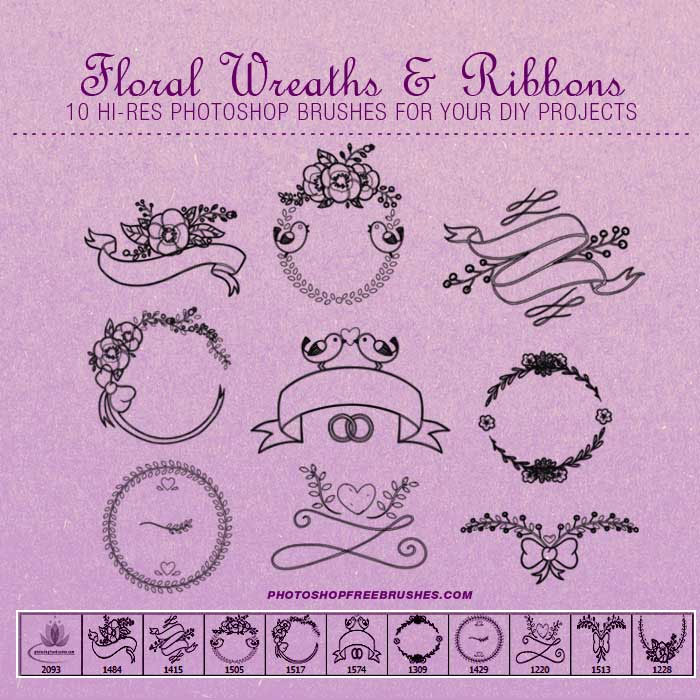 To use these brushes, download the zipped file, unzip and open in Photoshop. You must have at least a Photoshop CS version for these brushes to work properly. I hope you will find these brushes useful in your DIY projects this Valentine's season.
TERMS OF USE:  As with our previous brush sets, these may be used also for personal, noncommercial purposes only. Also, please refrain from making them available for download outside of this site. If you want other people to know about these freebies, please refer them to this original post. Also, HOTLINKING to the archived file is not allowed.

NOTE: If you are using Mozilla Firefox, please right click on the button and select the "Save link as" option.
Related Free Photoshop Brushes and Patterns: