10 Paper Photoshop Brushes: Exclusive Freebies
Yes, you read it right. Once again we are releasing a nice set of free Photoshop brushes that you can use in use designs, artwork in school or for creating personal stuffs like greeting cards and posters. This time, we created a set of brushes containing paper elements such as pad papers, a notebook with a pen, a leaf of paper with clip, a folder, an old and rugged notebook, and a lot more. There are total of ten paper Photoshop brushes in this set created in Adobe Photoshop CS3. We were not able to test these brushes with other versions of the program. However, in the past, users of our previous brushes informed us that those brushes worked for CS and newer versions. We assume, this set would also do the same.
You may use these paper Photoshop brushes to create fun backgrounds. For example, you can create a note to a friend using the paper pinned on a cork board using a handwriting font. You can also create nice background using these brushes to create scrap books. There are lot of other stuffs you can create using these brushes. All you need is a bit of creativity and you're off to making some really artistic artwork and crafts using these paper Photoshop brushes.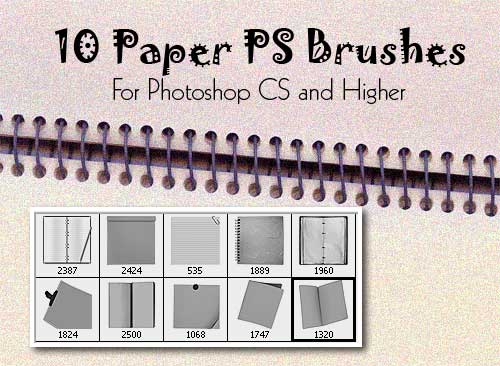 NOTE: If you are using Mozilla Firefox, please right click on the button and select the "Save link as" option.
TERMS OF USE: Please limit the usage of these paper Photoshop brushes to personal or non-commercial projects. I hope you will find these paper Photoshop brushes useful. If you use these brushes, please link back to "http://www.photoshopfreebrushes.com". Your comments will be greatly appreciated. But stumbling or digging this post will make us happiest… Enjoy!
IMPORTANT!!!: Please refrain from redistributing these Photoshop brushes, (i.e., downloading this set and making it available for download somewhere else). Also, HOTLINKING to the archived file is not allowed. Please refer to this post if you want to spread the word.
Related Free Photoshop Brushes and Patterns: