14 Cheerful Daffodil Flower Brushes
Daffodils, which usually come in bright yellow or white, is a symbol of rebirth and new beginnings in many cultures. Daffodil's botanic name is narcissus but it is also known as jonquils. Because these flowers usually bloom at the start of the Spring season, they are also long been associated with Lent, and therefore the nickname "Lent Lily." The lore connecting the daffodil does not only signal the end of winter. It is also believed to be a lucky emblem of future prosperity. In Wales, spotting the first daffodil of the season is believed to bring luck and prosperity in the next 12 months. In China, legend has it that if a daffodil bulb is forced to bloom during the New Year, it will bring good luck to your home.
Daffodil is considered as the birth flower of those born in the month of march. It is also the flower for 10th wedding anniversaries. Daffodils may also be given as gift because they bring happiness and luck. However, when giving them as gift, make sure to give a bunch of daffodils because it is also believed that giving a single bloom can bring forth misfortune.
So use these daffodil brushes generously in your designs. These would look great in designing greeting cards as well as for posters and brochures or anywhere you wish to inject some cheerfulness and good fortune.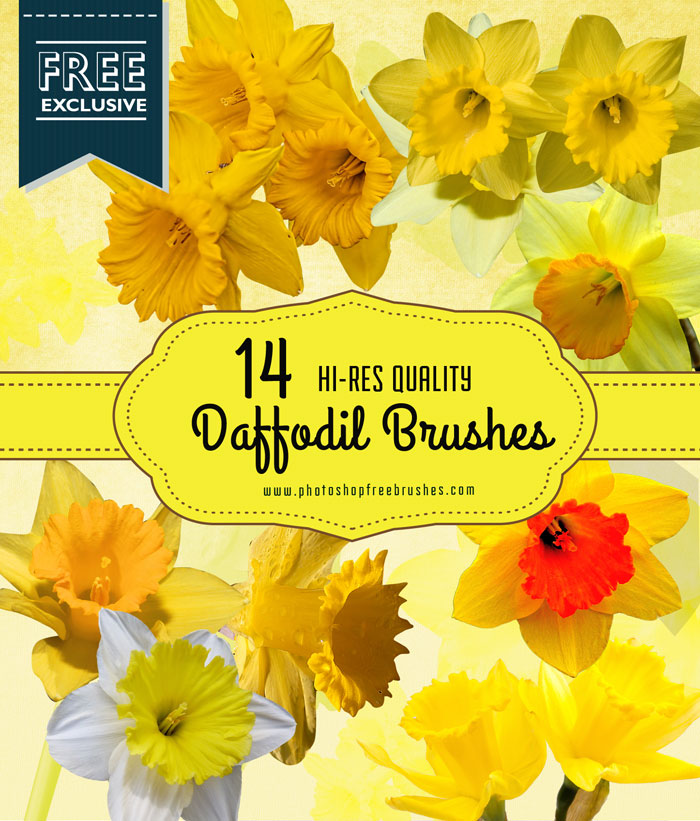 This brush set includes 14 images of daffodils in high resolution, with each brush sized at 2500 pixels. They are created in Adobe Photoshop CS5 but should work with any CS version of the program. If you want to use these images but do not have a Photoshop CS program, then just leave a comment and we will provide you with the link where you can get the image pack. Above is the preview of the brushes contained in this set. It includes images of daffodils in different angles. Some are single flower while some are in groups. These would be great for web as well as print designs like posters, invitation and party cards, gift tags, post cards, etc.
TERMS OF USE: As with our previous brush sets, these may be used also for personal, noncommercial purposes only. Also, please refrain from making them available for download outside of this site. If you want other people to know about these freebies, please refer them to this original post. Also, HOTLINKING to the archived file is not allowed.
IMPORTANT! The download file is password-protected to prevent hotlinking and discourage people from violating terms of use of our brushes. We have been seeing our brushes being distributed by other sites without our permission. PASSWORD for these brushes is: "pfb".

NOTE: If you are using Mozilla Firefox, please right click on the button and select the "Save link as" option.
Related Free Photoshop Brushes and Patterns: