14 Lovely Floral Border Brushes Free to Download
Another freebie for this Friday! We are actually thinking of coming up with a fresh set of Photoshop brushes that we can give away for free every week so make sure you have already subscribed to our RSS feed or  have already liked us on Facebook. Our freebies this week is a set of Photoshop brushes that you can use as frames and borders. These are medium-resolution brushes, with size of each brush ranging from 500-800 pixels.  The designs feature hearts, flowers and swirls. These are prefect for digital scrapbooks or for making collage of your family pictures. Try it also for your pre-nup or wedding photos. We are sure these brushes will look good on them.
Below is just an example on how you can use these brushes. The photo used is a stock photo from Dreamstime.  These brushes were created in Adobe Photoshop CS 5 but these are also compatible with any Photoshop CS version.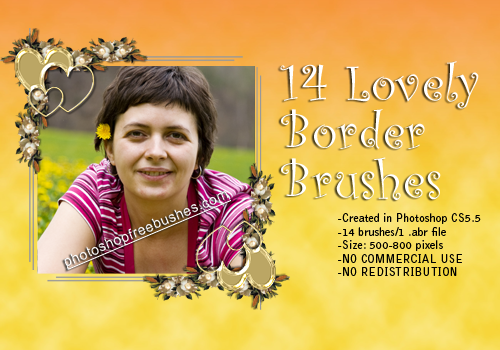 TERMS OF USE: You may use these border brushes for personal, noncommercial purposes only. However, please refrain from making these brushes available for download outside of Photoshop Free Brushes. If you want other people to know about these freebies, please refer them to this original post.
Please leave a comment if you happen to like our brushes or if find them useful. Your comments will be greatly appreciated.
IMPORTANT!!!: Please refrain from redistributing these brushes, (i.e., downloading this set and making it available for download somewhere else). Also, HOTLINKING to the archived file is not allowed.
Below is a preview on how the post stamps Photoshop brushes would look like when installed in Photoshop:


NOTE: If you are using Mozilla Firefox, please right click on the button and select the "Save link as" option.
Related Free Photoshop Brushes and Patterns: