16 Christmas wreaths Photoshop brushes
Christmas wreaths are a very popular decoration used around the world for Christmas and other holidays. But have you ever wondered where the tradition of wreaths originated? Well, according to many historians, wreaths have had a special place even during the pre-Christian era. It is said that in Eastern Europe, people used to illuminate wreaths made of evergreen leaves during winter because it was believed that it would bring spring and sunshine. Although the exact origin of Christmas wreaths is not recorded, it is said that they originated before Christianity itself. Since its origin, the Christmas wreath has gone through a multitude of changes, but has retained its significance. It is used to symbolize the festive spirit of Christmas as well as an embellishment for the homes and premises.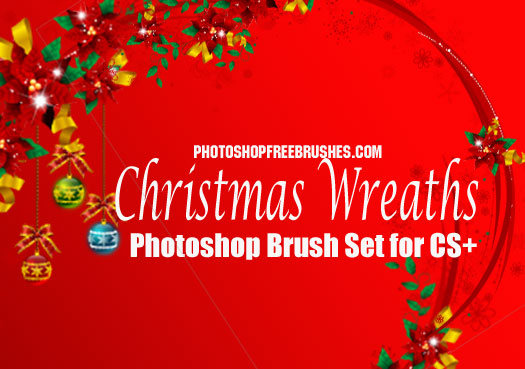 Today, with just ten days before Christmas, we would like to present a set of Photoshop brushes composed of various images of modern Christmas wreaths. There are images of traditional Christmas wreaths, illuminated Christmas wreaths and some modern designed Christmas wreaths that you can use to accessorize your designs. There are a total of 16 Christmas wreaths Photoshop brushes in this set with resolutions ranging from 2000 pixels to 2500 pixels. The Christmas wreaths Photoshop brushes were created in Photoshop CS3 and should work with any CS version of Photoshop.
TERMS OF USE: As usual, you may use the Christmas wreaths Photoshop brushes for personal, noncommercial projects. However, please refrain from making our Christmas wreaths Photoshop brushes available for download outside of this site. If you want other people to know about these Christmas wreaths Photoshop brushes, please refer them to this original post.
Please leave a comment if you happen to like these Christmas wreaths Photoshop brushes or if you find them useful. Your comments will be greatly appreciated.
IMPORTANT!!!: Please refrain from redistributing these Christmas wreaths Photoshop brushes, (i.e., downloading this set and making it available for download somewhere else). Also, HOTLINKING to the archived file is not allowed. Please refer to this post if you want to spread the word.
Below, you will have a preview on how these Christmas wreaths Photoshop brushes would look like when installed in Photoshop:


NOTE: If you are using Mozilla Firefox, please right click on the button and select the "Save link as" option.
Related Free Photoshop Brushes and Patterns: