20 Sets of Building Photoshop Brushes for Urban-Themed Designs
Cityscape or building brushes are very useful for creating backgrounds depicting city or urban living. Thus, having a ready-made collection of these brushes is very useful to every designer. If you have not started collecting building and city brushes, then here is the best opportunity to start collecting them. In this post, we put together the best building and city brushes that you may download and use for free in your designs. Most of the brushes in this collection are stamp brushes. There are also brushes made from vector drawings of buildings while others were created using real images of different cities around the world. So start you world tour browsing through this collection. To get the set that you want, simply follow the link provided below each preview image below.
01-Building Brush pack by ~123freevectors
This set includes stamp brushes of buildings, both old and modern, that you can use whenever you need these kind of structures in your design.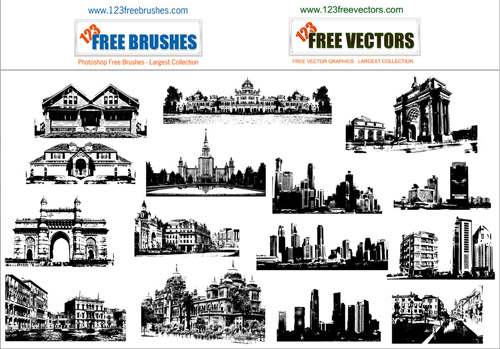 [ BUILDING PHOTOSHOP BRUSHES ]
02– City Skyline Brushes for Photoshop by Best Design Options
Here is a set of high-resolution free Photoshop brushes of city skyline of major cities worldwide such asManhattan, Chicago, Boston, Las Vegas, Seattle, Toronto, Sydney, Shanghai, Dubai, Russia, Hong Kong, and a lot more. The individual city skyline Photoshop brushes are properly labeled (except for two city skyline brushes which I also failed to identify. I would greatly appreciate it though if you could identify them for me.) so you will know which brush refers to a particular city skyline. This is useful if you are looking for a particular city skyline for your project.

[ BUILDING PHOTOSHOP BRUSHES ]
03–Miami Skyline by djsoundwav
This set includes 20 brushes composed of images of Miami skyline. All of these brushes are high-resolution (2500 pixels wide). ABR size is over 30MB.

[ BUILDING PHOTOSHOP BRUSHES ]
04-18 Famous Landmark and Building Photoshop Brushes
This is a set of Photoshop brushes composed of clip arts and images of famous landmarks and buildings around the world such as the Taj Mahal in India, the Statue of Liberty in New York, the Leaning Tower of Pisa in Italy, the Eiffel Tower in Paris, the Westminster, Torii Gate in Japan, Summer Palace in Beijing, and many more. These building Photoshop brushes will come in handy in case you need an image of the Statue of Liberty for example in silhouette effect.

[ BUILDING PHOTOSHOP BRUSHES ]
05-Skyline Brushes Pack: Minneapolis.St. Paul Brushes by ~OneLttle1
Includes 4 high-quality brushes (silhouette and photo) of Minneapolis-St. Paul skyline created using photographs. All brushes are between 2300-2400 pixels and work with PhotoShop 7 and newer versions. Download for personal, non-commercial projects.

[ BUILDING PHOTOSHOP BRUSHES ]
06-Trial Building Brushes by Prudentia
Some random building brushes you can use in your designs for free.

[ BUILDING PHOTOSHOP BRUSHES ]
07-City Brushes by Concept-on-Mac
A few lovely little brushes that include busildings, spiky cables, clouds, scattered dots and a lot more! This set only work on CS or above.

[ BUILDING PHOTOSHOP BRUSHES ]
08-City Brushes by ~v-k-s
A new brush set! With a bit of a shift toward urban vectors. The majority of the images are from in and around Montréal. The set includes: 3 skylines, 2 airplanes, St. Joseph's Oratory, Olympic Stadium, Casino de Montréal, Statue of Athena, Bus Shelter, and a silhouette.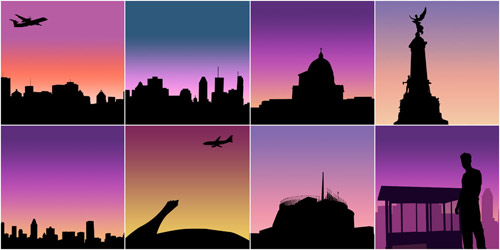 [ BUILDING PHOTOSHOP BRUSHES ]
09-This brush pack was made to make speed painting a little easier. These are especially useful for blocking in some background buildings or throwing up some steel structures in your design.

[ BUILDING PHOTOSHOP BRUSHES ]
10-Skylines+Skyscrapes by ~solenero73
A set of Photoshop brushes comprising  4 skylines, 2 skyscrapers and 1 building.

[ BUILDING PHOTOSHOP BRUSHES ]
11-Here are some ready-made building silhouette/skyline brushes for quickly painting in large areas of background. Nothing fancy, nothing especially detailed, but they work for doing areas of cityscape in the distance in backgrounds. For best results, on the 'brushes' menu, click 'scatter'.

[ BUILDING PHOTOSHOP BRUSHES ]
12-Building Brushes by *gigistar
Here are 6 brushes composed of different buildings from around the world. The resolution of these brushes is set at 2500 pixels. These are vector stamp style brushes.

[ BUILDING PHOTOSHOP BRUSHES ]
13-City abstract brushes by gigistar
This set includes 4 building designs with abstract background. All brushes are in 2500-pixel resolution.

[ BUILDING PHOTOSHOP BRUSHES ]
14-Post Card Brushes – Set I by ~dubtastic
Here are 9 brushes created from old post cards. The post cards werefrom World War II collection, but many of the dates pre-date WWII.

[ BUILDING PHOTOSHOP BRUSHES ]
15-Sydney Building Brushes 1 by ~prudentia
A set of brushes created using photos taken around Sydney. The brushes themselves are quite large – most are around the 800-900px mark.

[ BUILDING PHOTOSHOP BRUSHES]
16-City Scapes 2 – NYC Edition by ~tiffcali06
There are 7 brushes in this set composed of buildings and structures in New York City. The ABR file can be used on Photoshop 7 to CS5.

[ BUILDING PHOTOSHOP BRUSHES]
17-Vector Building brushes by ~vishalrokez
There are 4 brushes in this set composed of vector building with abstract backgrounds. Perfect for posters or invitation cards.

[ BUILDING PHOTOSHOP BRUSHES]
18-Bosing's Building Brushes by ~MrDraftsman
This set contains8 brushes–4 are vector-style silhouettes while the rest are from real images.

[ BUILDING PHOTOSHOP BRUSHES]
19–Famous City Skyline Brushes by ~Rawox
There are 15 brushes in this pack consisting of skylines of famous cities in the world such as New York, Los Angeles, Atlanta, and many more. Size of the brushes is 1000 pixels wide. To know or identify each skyline, hold your cursor on it in the preset manager and it will tell you which City the skyline is.

[ BUILDING PHOTOSHOP BRUSHES ]
20-Cityscape and skyline brushes by ~cLuddy
Another brush pack composed of 10 cityscape brushes.

[ BUILDING PHOTOSHOP BRUSHES ]
Related Free Photoshop Brushes and Patterns: