30+ Scary Halloween Pumpkin Brushes
Fall holidays like Halloween and Thanksgiving won't be complete without pumpkins. Since these orange fruits are harvested in the month of October, they are therefore common ingredient for Thanksgiving meals. are  hand in hand with the fall holidays of Halloween and Thanksgiving. Pumpkins are nutritious and versatile plant. Their flowers, seeds, and flesh are edible and rich in vitamins and are used to make soups, desserts, breads, and of course pumpkin pie. Another tradition that has made pumpkins popular during Fall season is pumpkin carving. Because of their color and shape, pumpkins are carved into jack-o'-lanterns, a popular Halloween tradition that originated hundreds of years ago in Ireland. Back then, however, jack-o'-lanterns were made out of turnips or potatoes; it wasn't until Irish immigrants arrived in America and discovered the pumpkin that a new Halloween ritual was born.
In this post, we put together some scary and hilarious pumpkins and jack-o'-lanterns you can use in your Halloween themed designs. You can use them as the main design element of your layout or to make background patterns and designs. For best results, use these brushes as stamp. Thus, with just a single stroke, you will be able to come up with beautiful designs in Photoshop. Most brushes contain single pumpkin image while there are some containing multiple (two, three, or more) pumpkins. I hope you will find these brushes useful and fun to use in your designs.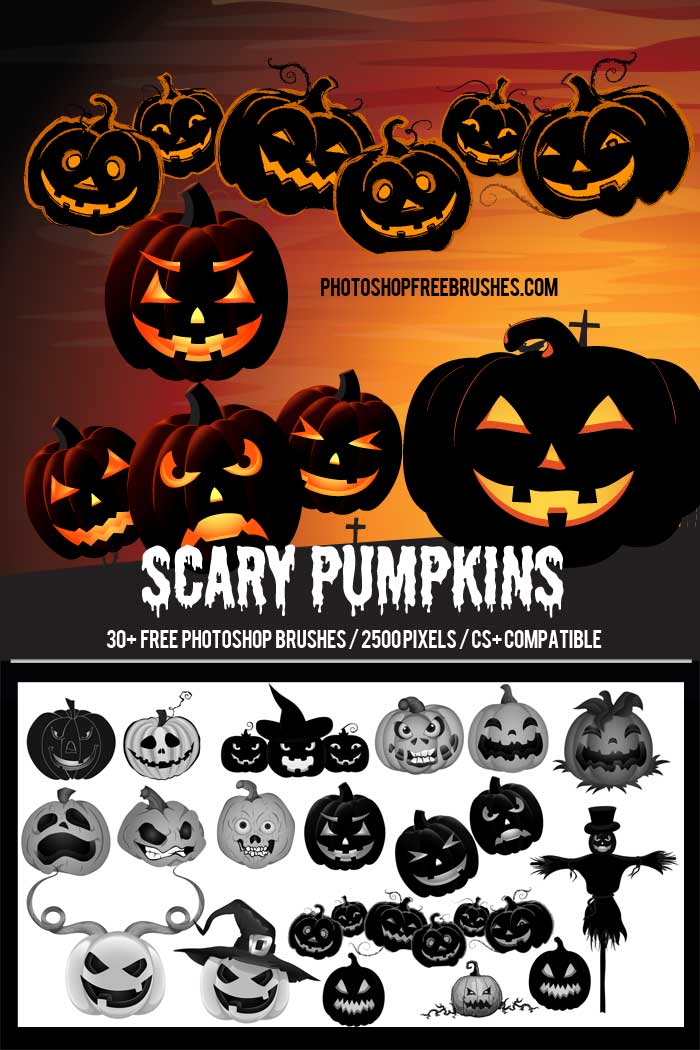 There are over 30 images of pumpkins in this set and all of them are high-resolution brushes, with each brush sized at 2500 pixels. They are created in Adobe Photoshop CS5 but should work with any CS version of the program. If you want to use these images but do not have a Photoshop CS program, then just leave a comment and we will provide you with the link where you can get the image pack. Below is the preview of the brushes contained in this set. You can use them for web as well as print designs like posters, invitation and party cards, gift tags, post cards, etc.
TERMS OF USE: As with our previous brush sets, these may be used also for personal, noncommercial purposes only. Also, please refrain from making them available for download outside of this site. If you want other people to know about these freebies, please refer them to this original post. Also, HOTLINKING to the archived file is not allowed.
IMPORTANT! The download file is password-protected to prevent hotlinking and discourage people from violating terms of use of our brushes. We have been seeing our brushes being distributed by other sites without our permission. PASSWORD for these brushes is: "pfb".

NOTE: If you are using Mozilla Firefox, please right click on the button and select the "Save link as" option.
Related Free Photoshop Brushes and Patterns: