500+ Free Heart Photoshop Brushes for Valentine's Day
Valentine's Day is just a month away. Since we usually make our designs ahead of time, then it is just timely to come up with an extensive roundup of heart Photoshop brushes that you can use for free this year. These brushes range from grungy, funky, elegant, doodled or scribbled, cute–almost anything you will ever need when adding heart element in your designs. Most of these heart Photoshop brushes are free for personal or non-commercial uses although some are kind 3enoughto have their resources available even for commercial purposes. I hope you will find something useful in this post.
01– Hearts by Fotoristic
This brush set includes 10 heart Photoshop brushes you can use for free.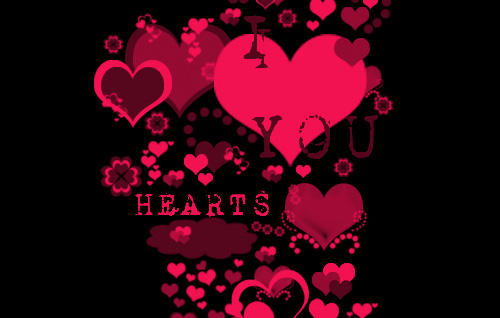 [ HEART PHOTOSHOP BRUSHES ]
02– Yanagi Love Brushes
A set of heart Photoshop brushes made for PS6+ and CS. These heart Photoshop brushes include many types of hearts, and some swans. Enjoy!
03-Hearts by ~King-Billy
This heart Photoshop brushes set includes 61 brushes made in Photoshop CS3.
04– Hearts brushes II by stardixa-resources
There are 25 heart Photoshop brushes in this set. If you are not using Photoshop, then you can also download the image pack for the brushes.
05– Hearts and Flowers PS 7.0 by Pfefferminzchen
There are 21 heart Photoshop brushes included here. An image pack is also provided for those who are using a lower version of Photoshop or other photo editing program.
06– Hearts brushes by stardixa
There are 41 heart Photoshop brushes in this pack compatible with Photoshop CS and above.
07– Decorative Hearts by Coby17
There are 13 heart Photoshop brushes made with Photoshop CS3.
08– Heart Brushes by Photoshoper
Another 36 heart Photoshop brushes you can use for creating romantic designs.
09– Vector 'Style' Hearts by melemel
This set of 20 heart Photoshop brushes were created in PS7.
10-Hearts Brushes by pincel3d
There are 18 heart Photoshop brushes in this pack for Cs and above versions.
11-Heart in a cute design is a must. This set contains 9 big brushes created in Photoshop 7.0.
12– Hearts II Photoshop Brushes by *redheadstock
There are 26 heart Photoshop brushes for Photoshop 7+, Photoshop Elements 2+ and GIMP 2.2.6+ in this set. These are all original designs, and are all about 800 x 800 pixels. Includes grungy hearts, heart outlines, hearts with swirls, patterned hearts, glittery hearts, basic hearts, a broken stone heart (with a bandaid!), a checkered heart, a tribal heart, a dripping heart, a heart with splatters, and more!
13– Hearts Photoshop Brushes by redheadstock
There are 24 heart Photoshop brushes in this set created for Photoshop 7+, Photoshop Elements 2+ and GIMP 2.2.6+. Included are images of hearts, hearts, and more hearts. Includes heart clusters, hearts with arrows, broken hearts, heart borders, heart "bar" dividers, lacy hearts, flowered hearts, and even hearts made up of hearts!
14– Valentine Glow Hearts by hawksmont
You've got 5 big heart Photoshop brushes working with Photoshop 7 and higher.
15– Valentine Brush Set by crucibelle
Valentine Brush set consisting of mostlyValentine's Day postage, love letters, postcards, envelopes, etc. A few other random Valentine's Day brushes are thrown in for good measure. These brushes are medium to fairly large in size. There are 24 brushes. The preview does not show all the brushes.
16– Assorted heart brushes by ~lovetheories
The zip file contains 33 Photoshop 5.5+ assorted heart Photoshop brushes as well as an image pack.
17– Hearts Brushes by =Coby17
Contains 11 heart Photoshop brushes created in Adobe Photoshop CS3.
18-HEARTS by ShadyMedusa-stock
A set of hearts brushes for Photoshop 7.
19– Tribal Heart Brushes by circle-of-fire
Put a twist on your Valentine-themed designs this year by using these tribal heart brushes. Perfect for creating funky designs.
20– Grunge Hearts by Graphics Illustration
There are 23 free heart Photoshop brushes in this set that you can use to compliment your grunge designs.
21– Hearts for valentines by carmel5530
This set is composed of cute images of hearts, roses, swirls and many more that you can use for creating Valentine's Day greeting cards, invitations, party posters, etc. These heart Photoshop brushes are compatible only with Photoshop CS2 and above.
22 PS Brushes Set 1 – Hearts by NeonxNerd
There are 19 heart Photoshop brushes in doodles in this pack.
23– Hearts by *mcbadshoes
Just Hearts…16 heart Photoshop brushes including image pack, made with PS Elements 4.0.
24– Photoshop Brushes- Hearts by tatsuyasaverem
All drawn by hand with an ink pen and the help of stencils. Made in Photoshop 7.
25- Confused Love- Image Pack by skullsXroses
As the title says, this is the image pack for the Confused Love brushes. You need to open the image files in Photoshop and use them as image or you can make a set of Photoshop brush using these images.
26- Heart Brushes by exchanged-stock
A pack of 15 simple assorted heart Photoshop brushes created in Photoshop CS2.
27- Flowers swirls and hearts
Contains 7 high resolution Photoshop Cs3 brushes.This set is exclusive to brushesstock.com.Free for personal and commercial use.
28- 10 Heart Photoshop Brushes
Here are some glittery heart Photoshop brushes than you can use even for commercial projects. The hearts are embellished with gemstones that would compliment your elegant designs this Valentine season.
29- With This Ring-Hearts by Kellies Kreations
With any wedding kit there must be hearts…Here are 31 beautiful hearts in felt, chipboard, patterned, glitter etc.
30- Hearts 'n Bokeh
There are 11 Photoshop brush in this set that are compatible with Photoshop CS and later versions.
Related Free Photoshop Brushes and Patterns: