20 Sets of High-Quality Grunge Photoshop Brushes
Grunge brushes are very useful in creating composition in Photoshop, both for web and print. Since grunge design continues to be popular, we decided to come up with a roundup of what we think are the best grunge brushes out there. Since there are really a lot of high-quality grunge brushes, we decided to divide our roundup in two volumes. So do not forget to check out our site again in the next few days for another amazing round up of grunge brushes.
All of the grunge brush pack for Photoshop included in this list are free for personal use under certain conditions. For a detailed information of the individual terms of use, check them out at the author's page before downloading the brushes. Some of the brushes may be used for commercial projects. More details on the download page also. I hope you will be able to create more beautiful art pieces with these grunge brushes.
01- Trash+Grunge Photoshop Brush Pack by Akumac
This brush set was made for Adobe Photoshop CS & CS2. Includes 6 great brushes for your grunge/trash/dirty arts, ideal if you use a graphic tablet!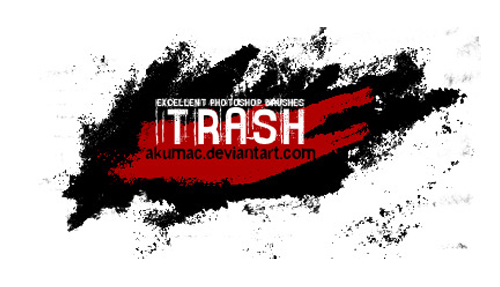 [ GRUNGE PHOTOSHOP BRUSHES ]
02- Graffiti Wall Brush Set by Sweet Soul Sister
The brushes included in this set are all 2500 pixels wide or tall. Free to use in any way you want just refrain from redistributing the set.
03- Patterned Grunge Set 3 by debh945
A set of patterned brushes that you use by "painting" the pattern on your document. There's chicken wire, chain link fence, barbed wire, and some various grates.
04- Distressed Grunge Pack – 26 Brushes + 26 Vectors
This pack includes 26 high resolution distressed grunge elements in two amazing flavors – Photoshop Brushes (ABR) and Vectors (EPS). You can lay these elements onto any design and get instant results! Spruce them up by adding a gradient color overlay or bust out your eraser tool and make your designs look dirty and abused.
05- Drips and Spray Paint Pack – 40 Brushes + 40 Textures
This pack is filled with awesome paint splatters, drips, sprays, and more! You have two high resolution options to download them as: 2500px Photoshop Brushes or 3000px PNG images with transparent backgrounds.
06- Grunge Pack:01-02-03 by ShadyMedusa-stock
Created in Photoshop 7, the download folder contains a total of 68 grunge brushes contained in 3 brush sets (grunge01:21 brushes; grunge02:25 brushes; grunge03:22 brushes)
07- Grunge Brush Pack by Keren-R
This set includes 50 quality grunge Photoshop brushes that you can use for free. Created in Photoshop 7, these are therefore compatible with the Photoshop CS and higher versions.
08- Double Grunge Circles by ~DieheArt
Created in Photoshop 7, this set includes varieties of designs. You will get every circle loose and a bunch of brushes with several circles grouped together.
09- Old Ephemera Photoshop Brush Set by Josweb
This is a large collection of grunge Photoshop brushes – 45 in all! For personal use only.
10- Octanes Motion Grunge Brush Pack by Adrenaline7801
This set works with Photoshop Cs and newer versions.
11-Zen Grunge Brush by ~ViciousZen
This pack includes 30 quality grunge Photoshop brushes that Work with Photoshop CS and CS2 only.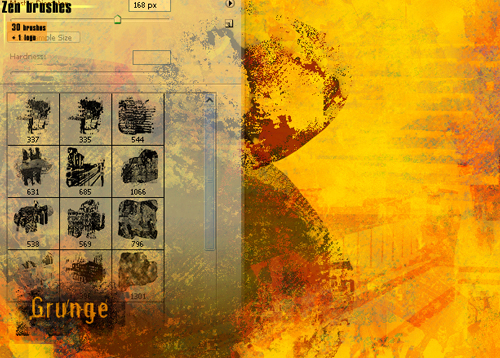 [ GRUNGE PHOTOSHOP BRUSHES ]

12- Typographic Grunge Brush Set by ~Scully7491
Some random letter and number grunge Photoshop brushes made from stock photos. The file size is a pain but some of these really work better as large brushes.
13- Abstract grunge brush Set by ~xALIASx
A mix between grunge and abstract brushes, there are about 25 brushes in the pack created in Photoshop CS.
14- Starry Grunge by ~Rhyme2k
A pack of free Photoshop brushes for PS7 and higher. This set has 10 brushes, some grunge like, others more blood like.
15- Starwalt Watercolors Vol.3 by Gigistar
8 watercolor splatter brushes created for Photoshop (2500 px).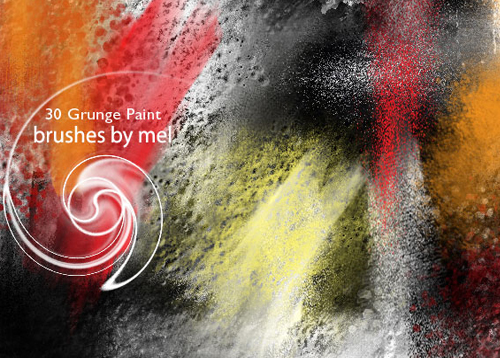 [ GRUNGE PHOTOSHOP BRUSHES ]

16- Scratchy grunge by drowning-heart-stock
Made in Photoshop CS2, this set includes 29 grunge and scratchy Photoshop brushes.
17-Devastate Grunge Splatter by ~Intricate-Illusions
Includes 10 high-resolution quality grunge Photoshop brushes.
18- 'I LUV DESIGN' Pro Grunge by PAULW
This set includes 27 Cool pro grunge brushes for Photoshop CS/CS2 but definitely won't work with PS7.
19- Quad Grunged by env1ro
Quad Grunged pack contains 10 grungy abstract brushes compatible with PS 7 and up!
20- Grunge Brushes by ~Scully7491
These grunge brushes were created in Photoshop 7 and works with newer versions of Photoshop.
Related Free Photoshop Brushes and Patterns: