Nature Photoshop Brushes: Spring Garden
Spring is the time when we see nature or plants come to life after a long winter. In graphics design, Spring is usually represented by blooming flowers, foliage, trees, green grasses as well as butterflies and hopping bunnies. As our contribution to the design community, here is a Spring-themed Photoshop brushes set that you can use for free. Called Spring Garden, this set of brushes consists  of things that you usually find in a garden during Spring time such as flowers, leaves, branches of trees, butterflies and a cute little bunny.
CATEGORY: Nature / Decorative
Number of Brushes: 18
Resolution of Each Brush: 1200-1500 pixels
There are a total of  18 nature Photoshop brushes in this set.  Created in Photoshop CS5, I think this should work with any CS and above versions of Photoshop. If you encounter problems downloading this file, which is in .zip format, please let me know.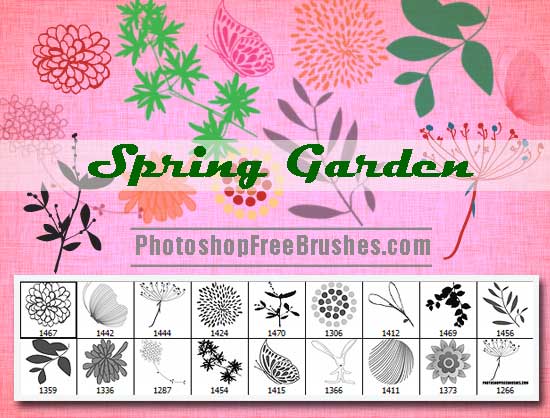 TERMS OF USE: Please limit the usage of these brushes to personal or non-commercial projects. We hope you will  find them useful. Your comments will be greatly appreciated. But stumbling or digging this post will make us happiest… Enjoy!
IMPORTANT!!!: Please refrain from redistributing these brushes, (i.e., downloading this set and making it available for download somewhere else). I hope that is clear. Also, HOTLINKING to the archived file at Mediafire is not allowed. Please refer to this post if you want to spread the word.
Hit the download button below to download these nature Photoshop brushes in .zip format:

NOTE: If you are using Mozilla Firefox, please right click on the button and select the "Save link as" option.
Related Free Photoshop Brushes and Patterns: