Fresh Strawberry Pictures Photoshop Brushes
Strawberry is a very popular fruit for home gardens and can be grown anywhere. Nothing beats eating a fresh strawberry picked either off your own plants or at a local pick-your-own farm. The fragrantly sweet juiciness and deep red color of strawberries can brighten up both the taste and aesthetics of any meal. No wonder they are the most popular berry fruit in the world. Although strawberries have become increasingly available year-round, they are at the peak of their season from April through July when they are the most delicious and most abundant. So here is a pack of high-resolution brushes for Photoshop composed of juicy strawberry pictures for you to use. These are useful for creating background design for brochures, flyers or web templates about diet and nutrition or any food-related business. This set of strawberry pictures Photoshop brushes was created in Photoshop CS2. Thus, these should be compatible with any CS versions of Photoshop. The resolution of each Photoshop brush range from 200o pixels to 2500 pixels.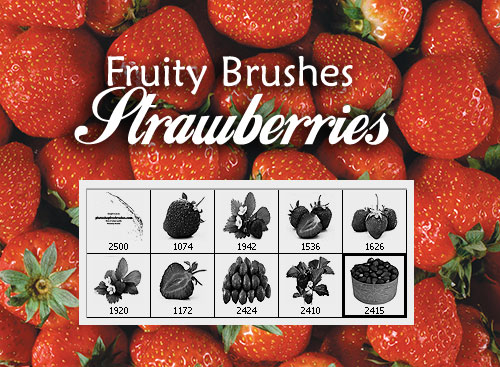 TERMS OF USE: Please limit the usage of these strawberry pictures Photoshop brushes to personal or non-commercial projects. I hope you will find these strawberry pictures Photoshop brushes useful. If you use these strawberry pictures Photoshop brushes, please link back to "http://www.photoshopfreebrushes.com". Your comments will be greatly appreciated. But stumbling or digging this post will make us happiest… Enjoy!
IMPORTANT!!!: Please refrain from redistributing these strawberry pictures Photoshop brushes, (i.e., downloading this set and making it available for download somewhere else). Also, HOTLINKING to the archived file is not allowed. Please refer to this post if you want to spread the word.
Below, you will have a preview on how these strawberry pictures Photoshop brushes would look like when installed in Photoshop: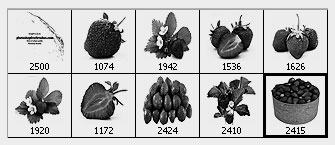 NOTE: If you are using Mozilla Firefox, please right click on the button and select the "Save link as" option.
Related Free Photoshop Brushes and Patterns: