Hibiscus: 7 Hi-Res Tropical Flower Brushes for Photoshop
Adding hibiscus is an easy way to add a tropical flair in your designs.  Since summer reminds us of the beautiful tropical beaches, then adding hibiscus as accessories or accents in your party flier, beach resort brochures, summer-themed websites, among others, will surely add some fun and summer vibes in your work.
In this post, we are giving away a set of free Photoshop brushes featuring hibiscus flowers in different arrangements. These are useful in creating summer-themed designs such as fliers, posters, brochures, websites, etc.
TERMS OF USE:  These brushes may be used for personal, noncommercial purposes only. However, please refrain from making these brushes available for download outside of Photoshop Free Brushes. If you want other people to know about these freebies, please refer them to this original post. Also, HOTLINKING to the archived file is not allowed.
Total download file size is 1.3 MB
Compatible with CS+/ created in adobe Photoshop CS5
No. of Brushes: 7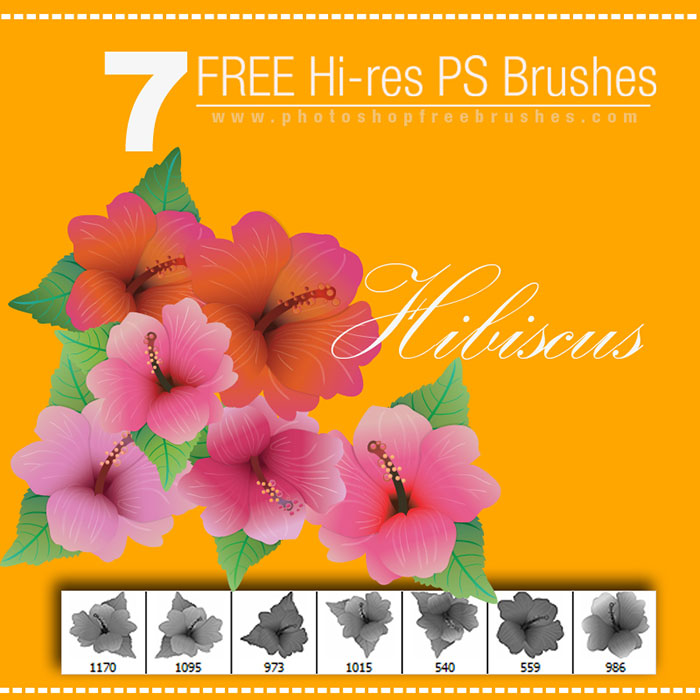 NOTE: If you are using Mozilla Firefox, please right click on the button and select the "Save link as" option.
Related Free Photoshop Brushes and Patterns: