26 High-Res Splatters Photoshop Brushes
CATEGORY: Splatters
Number of Brushes: 26
Resolution of Each Brush: 2500 pixels
Description: Last year, I had a project that required me to use some ink splatters. I tried to search for free Photoshop brushes online but only got disappointed with the sizes (around 500-900px) of the splatters Photoshop brushes that I could download. So I decided to make my own set of ink and blood splatters with resolution of 2500 pixels each (that is the maximum size that I could make using Photoshop CS2). So instead of keeping  those splatters Photoshop brushes in my hard drive, I might as well share them to you. I hope you will find my splatters Photoshop brushes useful.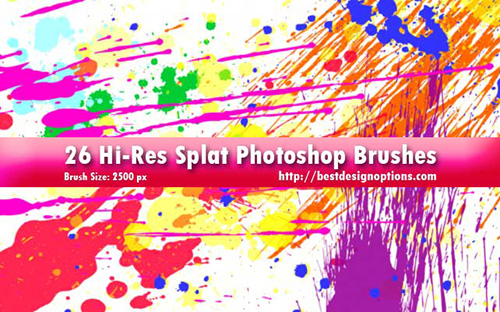 TERMS OF USE: Some rights reserved. This work is licensed under a Creative Commons Attribution-Noncommercial-No Derivative Works 3.0 License.
Please do not host thesesplatters Photoshop brushes on you own servers for download, please link to this page if you want others to know about them.
Just let me know if you encounter problems installing the splatters Photoshop brushes. If you are using an older version of Photoshop or if you are using program other than Photoshop, you can request me to send you the image (PNG) file of the splatters Photoshop brushes.
Below, is a preview on how the splatters Photoshop brushes would look like when installed in Photoshop: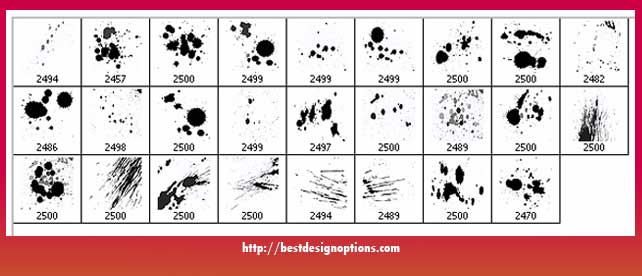 NOTE: If you are using Mozilla Firefox, please right click on the button and select the "Save link as" option.
Don't forget to share this on Pinterest or Facebook if you like this page!