12 Post Stamps Photoshop Brushes
This set of free Photoshop brushes includes post stamps or those images of those markings you see on the letter envelope that you usually receive via the traditional postal service or snail mail. I do not know exactly what they call these markings. I am referring to the usually round markings that each country's postal service put on the face of the envelop of a letter and usually indicates not only the country but the date the letter arrived to that particular country as well. Are these also called post stamps?
Anyways, below is a sneak preview of the Photoshop brushes when installed in Photoshop. You can use these post stamps Photoshop brushes in making collage of your travels or in making post cards more realistic for example by putting a stamp on them. These would also add flavor if used in your scrapbooks.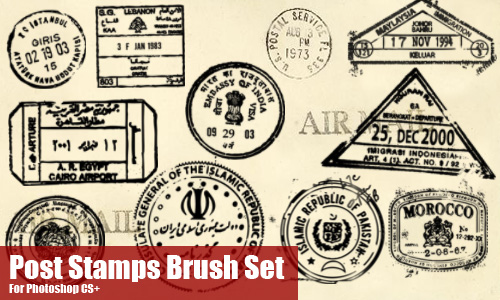 Each Photoshop brush has a resolution of 2500 pixels. There are a total of 12 post stamps Photoshop brushes  in this volume. Like many of our brushes, this post stamps Photoshop brushes set was also created in Adobe Photoshop CS3. Thus, you can install the .abr file in any CS version of Photoshop.
If you encounter problems downloading this file, which is in .zip format, please let me know. You may also try switching to Mozilla Firefox. It worked in the past whenever people (especially Mac users) who had problems downloading from this blog.
TERMS OF USE: You may use the post stamps Photoshop brushes for personal, noncommercial purposes only. However, please refrain from making the post stamps Photoshop brushes available for download outside of Photoshop Free Brushes. If you want other people to know about the post stamps Photoshop brushes, please refer them to this original post.
Please leave a comment if you happen to like our post stamps Photoshop brushes or if find them useful. Your comments will be greatly appreciated.
IMPORTANT!!!: Please refrain from redistributing these post stamps Photoshop brushes, (i.e., downloading this set and making it available for download somewhere else). Also, HOTLINKING to the archived file is not allowed. Please refer to this post if you want to spread the word.
Below, you will have a preview on how the post stamps Photoshop brushes would look like when installed in Photoshop:



DOWNLOAD STAMPS BRUSHES

Size: 4.11 MB
Type of file: .ZIP

Similar Brushes:
Note: All visual content featured on this website are copyrighted to their respective rightful owners. No infringement intended. Please read the Terms Of Use of these images/resources before using to prevent unwanted occurrences. Unless otherwise specified, the Website is intended for your personal use only.